Summer Refreshment is Just a Car Wash Away
Actions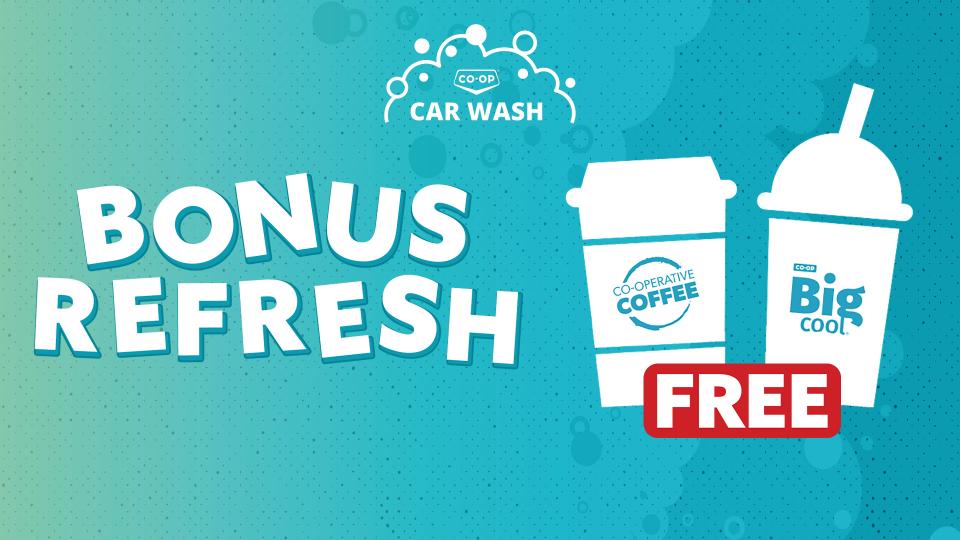 Summer Refreshment is Just a Car Wash Away
July 13, 2023
The beauty of summer is upon us, and at your Ucluelet Co-op Gas Bar, we're gearing up to make it a season to remember. We understand that community is at the heart of everything we do, and we're ready to show our appreciation with a unique event - our Bonus Refresh!

As temperatures rise, so do our efforts to keep you cool and refreshed while keeping your vehicle sparkling clean. This summer, we're introducing a community event that's all about adding value to your day. We're combining our top-notch car wash services with a refreshing treat, absolutely free!
Yes, you read that right! Every car wash purchase at Co-op from July 13 to September 6 will come with a FREE Coffee or Big Cool Slush. That's not just any coffee or slush, but a choice between the most sold premium coffee brand in Canada - Van Houtte, or our signature Co-op Big Cool Slush that's designed to quench the summer heat in the most delightful way.
What started as a small grocery store opened by French immigrant Albert-Louis Van Houtte in 1919, Van Houtte Coffee has grown to become one of North America's largest coffee suppliers. Freshly brewed and available at Co-op Gas Bar locations across Western Canada, Van Houtte Coffee is the perfect pick-me-up to start your day or fuel your long summer drives.
On the other hand, if you're more of a chilled beverage enthusiast, our Co-op Big Cool Slushy is your summer savior. The Big Cool Slush is an icy delight available in a range of flavors. It's the perfect companion to keep the summer heat at bay while you're out and about, making memories.
The question isn't whether to drop by, but which treat to choose with your car wash. Remember, any size, any flavour – it's all your choice. We're thrilled to offer this special deal as a way to say thank you for being a part of our community and choosing Ucluelet Co-op for your summer needs.
So why wait? Give your car the shiny makeover it deserves while you enjoy your favorite refreshment, all under one roof. Let's make this summer a memorable one, together. Swing by the Ucluelet Co-op Gas Bar today and enjoy the Bonus Refresh you deserve. We can't wait to serve you. After all, at Co-op, it's all about community, value, and a whole lot of summer fun!
Discover more: