Annual General Meeting 2019
Actions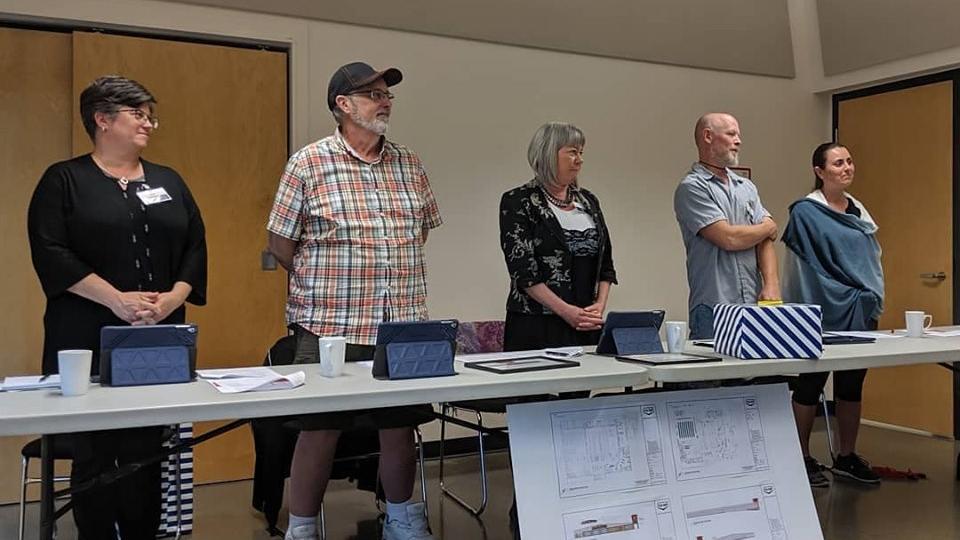 Annual General Meeting 2019
May 31, 2019
Recap
For anyone that missed the AGM, here is the main report that was presented. Feel free to contact our GM if you have any additional question.AGM SUMMARY
By General Manager Laurie Gehrke
We've had a great year of operations and are seeing the trend continue into 2019 – 2020. Here are a few of the year's highlights:
• It was a record year of sales at just over $18M, an increase of just over 6%, with expenses increasing at a similar rate (which is to be expected).
• We were nominated for the CRS Sustainability Award.
• Our 'Communities in Full Color' program resulted in free paint for the Amphitrite Lighthouse.
• Our organic-waste dehydrator is up and running in its test phase.
• Our website was transitioned to a much safer, more secure site (www.uclueletcoop.com).
• Our net savings increased by $189,958 over 2018's.

Planning
2018 was a strong year of planning for your local Co-op, including a strategic plan for diversification into pharmacy as well as a focus on sustainability. We are leading the province with a waste digester (affectionately known as EGOR), processing organic waste and soon cardboard, used cooking oils, meat scraps, and a small amount of plastics into a burnable heat source for our hot water and warehouse. (Video was shown for sustainability actions taken at Ucluelet Co-op.)
We are moving forward in January of 2020 with a desperately needed renovation to our store and updating of equipment in most departments. This renovation is scheduled for completion by the May long weekend of 2020. (Drawings of the expected changes are in the administration office for review.)
Community)
Community
Community support by your Co-op remains important to us, with many groups and organizations benefiting from your support.
Over $21,500 worth of goods and services in the past year went to non-profit organizations in our community. This was spread over many organizations and functions which benefit most community members in some way. We are locally invested, community-minded, and provide lifetime membership benefits to our members.
Our continued work with the Food bank is helping to ensure that our local families in need are looked after. In fact, the Food Bank has reported generous weekly donations from your Co-op in excess of 12,000 pounds in 2018! We provide strong support for the Food Bank both in goods as well as gift cards and, for the summer season, are asking for a donation to our Food Bank in the form of a Toonie. ($1604 has been collected in the first month of this program.)
Our Kids Club has remained active during the last year with over 165 members, and we have sponsored several events for our kids including Ukee days promotions and contests, giveaways, and of course cookies at the tills with great participation from our members!
The Co-op works with the Cowichan-based Yes Camp and has sponsored 4 youth in 2018 to attend and learn valuable leadership and interpersonal skills. We have continued to support our schools with various programs throughout the year including a very strong scholarship program. One of our very own employees is going on to university this year! We have held multiple car washes and provide support to garden projects. In addition, we help sponsor a Moms and Tots program to help teach healthy eating habits. We also support the Westcoast Resource Society and our local seniors with a lunch program and discount program. I am sure you have enjoyed a Glee performance here and there, and we happily help them with healthy snacks and hydration!
Efficiency
All Island Co-ops, Ucluelet included, continue to work together to create efficiencies and savings in every aspect of our business. These savings include the use of shared credit management, fuel deliveries, accounting, HR, maintenance, and many other services
Social Media
We use a variety of social media, including our website, Facebook, Instagram, and good old-fashioned newspapers to keep our members aware of what's happening.
Staff Training and Excellence
Training
Training remained a high priority for the Co-op with Staff and Board continuing to attend up-to-date seminars provided by Federated Co-operatives Limited in addition to many online e-learning courses. We would like to recognize the following board members for the following years of service: Lindsay Grills – 5 years, Marnel Saunders – 10 years, and Gord Dunsmore – 10 years (actually, it's 14). We thank you for your continued service and excellence!
Final Statements
In closing, I would like to mention that our staff are top-notch! They work hard every day to make your experience at the Co-op a great one – and they succeed. I thank all members for your continued patronage and support, the Board for their leadership, and our department managers and their staff for their hard work and dedication in the last year. I would especially like to thank Lynn and Denise for preparing this room for our meeting!
Your Co-op team is looking forward to serving you in 2019!

RESPECTFULLY SUBMITTED,
LAURIE GEHRKE
GENERAL MANAGER