2022 Fiscal Annual General Meeting
Actions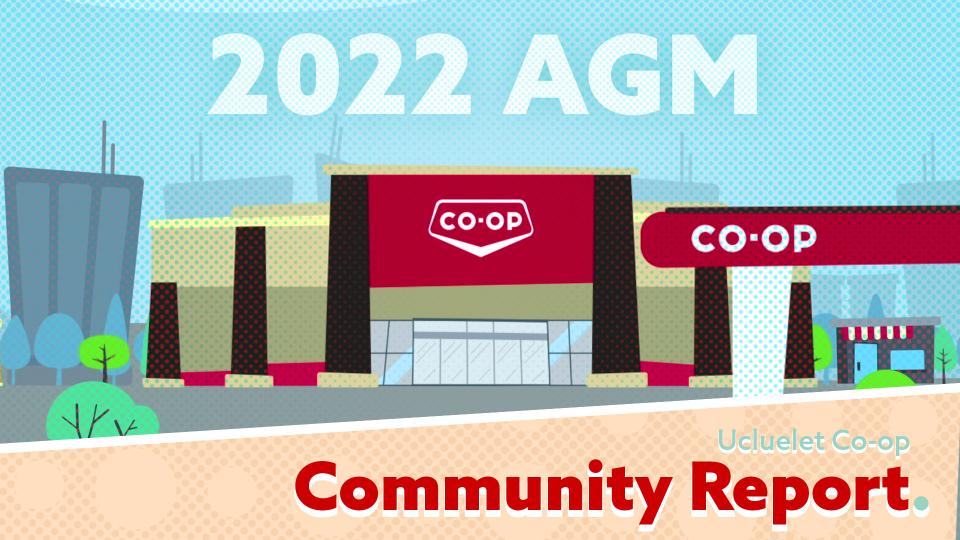 2022 Fiscal Annual General Meeting
May 2, 2023
Recap of Ucluelet Consumers Co-operative Association's Successful 67th AGM

The Ucluelet Consumers Co-operative Association proudly reflects on the highlights and accomplishments from the 67th Annual General Meeting (AGM), held in 2022. We would first like to acknowledge with immense gratitude the Yuułuʔiłʔatḥ First Nations, the traditional owners of the land where our co-operative operates.
In particular, we have continued our commitment to the Ucluelet Elementary Breakfast Program, West Coast Resources Society Community Soup Lunches, local youth teams, the local Food Bank, and Raincoast Education Society. A notable contribution is a committed donation of $10,000.00 per year for three years to the Raincoast Education Society.
The co-op has pledged its continued support to Cops for Cancer, the Pacific Rim Rotary Club, the Ucluelet Chamber of Commerce Edge to Edge Marathon, and many other local groups through various donations. In addition, we're contributing to the Ucluelet Childcare Society by providing space for infants and toddlers, with construction and permits nearing completion.
We're thrilled to announce the commitment towards building a multi-purpose building that integrates rental accommodations with retail and childcare spaces. This building is a testament to our commitment to the youth and our community.
The fiscal year also saw equity payments amounting to $ 20,235.20 being made to members who moved away or qualified for retirement and/or age payouts. Further equity payments of $492,153 were allocated to Members who reached the $1200 cap and to Members part of the general repayment.
In the coming months, a Patronage Dividend has been declared for the store, fuel, pharmacy, hardware, and propane. Further, it's decided that 100% of the patronage refund for 2022 be paid in cash to members with equity of $1,200. The balance of the patronage dividend will be paid at 30% cash and 70% applied to member equity.
Lastly, we would like to express our deepest gratitude to our members, our management,our team for their relentless support and dedication, and Board of Directors who worked tirelessly through 19 meetings to steer our Co-op towards this fruitful year. It's the united efforts of all that keep our co-op thriving and our community fed and fueled!